Offers plenty of relief for gravel riding and increased performance.
Use discount code at checkout to save 15%
BTA15
The Redshift ShockStop Suspension Stem aims to solve an issue that so many people riding road and gravel bikes must deal with. Poor quality roads. Whether you're on a local group ride, or exploring gravel back roads, the ShockStop Stem will make your ride smoother, faster, and more comfortable.
20mm travel suspension: Great for poorly paved roads, gravel roads and light single-track.
5 lengths: From 80-120mm in 10mm increments
6061 T6 Aluminum: Rider weight limit of 135kg (300lbs)
ShockStop Pro Stem Available: Titanium hardware and CNC machined to reduce weight by 15%.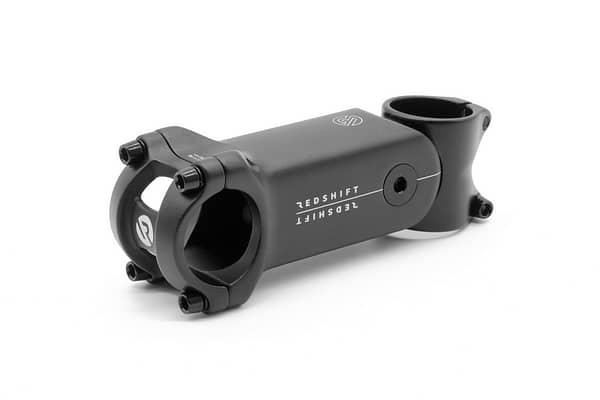 About the Shockstop Suspension Stem
The ShockStop Suspension Stem is designed to provide up to 20mm of travel, which helps to smooth out rough roads when the going gets tough. The difference is noticeable immediately and it is quite amazing how it can eat up the bumps of rough paved roads, washboard, gravel and even help smooth out flowy singletrack trails. By changing the internal elastomers you can fine-tune the setup to create a stiffer or softer suspension. Crafted out of 6061 T6 aluminium, the stem can be installed to provide either + or – 6 degrees of rise. Available in 10mm increments from 80-120mm lengths, the ShockStop Stem is designed to blend seamlessly with the majority of modern bikes. Allowing you to go further and ride faster, the ShockStop Stem absorbs impacts and keeps your body feeling fresh.
Founded in 2013 by a group of cyclists that just so happened to be mechanical engineers, the RedShift team had dedicated themselves to creating components that make a meaningful difference to the riding experience. The team continues to create innovative products that help provide comfort and speed, allowing the rider to go further and faster.
Is the ShockStop Suspension Stem right for you?
Having cycled over 15,000km in the past two years on a gravel bike with the ShockStop Stem installed, I can attest to the fact that the suspension stem designed by RedShift has been a game changer for my style of riding. From the rough chip sealed roads of the Yukon territories, the unpaved shoulders of Ontario's roads to the regions best bikepacking routes, the ShockStop Stem does an excellent job of reducing the fatigue that can accumulate in the shoulders, arms and wrists over several hours, days or weeks of cycling.
In my experience, this is especially noticeable on road and gravel bikes where the tires are smaller and can't absorb as much impact from ruts, rocks, washboard, etc. Adjusting the stem's suspension is as simple as taking off the faceplate, using an allen key to remove the bolt that hold the elastomers in place and then putting in whatever you want the new setup to be. In my case, I found that because I use aerobars I needed to have a bit stiffer suspension, as the leverage made me "heavier".
If you are the type of rider that gets numb hands and sore shoulders after a day of gravel riding, this stem might just be the perfect addition to your bike. Because of my amazing experience and high praises of RedShift products, they are now sponsors of the podcast and are providing me with some of their other products to use. I feel it is important to mention this, although it has not impacted my opinions on their products, as those opinions were well established long before RedShift became sponsors.
However, one of the benefits of having them as a sponsor is that they have also provided me with a discount code for people to use when buying their products.
By using the code BTA15, you get an instant 15% discount on checkout.
Not too shabby
Chris