Luang Prabang: Inner peace and outer calm
The ride to Luang Prabang was supposed to take up 4-5 hours through some amazing mountains and down some pristine valleys. Shortly after leaving we saw a Korean tourist on a small scooter and after a short stop, he told us that he would follow us. I told him he was nuts…..and I was right. Rather than taking the most direct route to Luang Prabang, I had the idea to take a short detour so that we could ride along the Mekong River for the last 60km. It should be made clear that the only roads in good condition in Laos are the highways and the cities. Everything else is pretty bad. Shortly after turning off the main road, we started going down a dirt road through rice paddies. From there things got progressively worse, and the trail became something with bamboo bridges, steep climbs, lots of rocks, ruts, and washboards. We talked about turning around, but figured that it would now take us just as long to go back as it would to carry on. WE WERE WRONG! Out 4-5 hour ride took us nearly 9 hours with rests included. Every time people saw us they jaws would drop and they would just stare at us. In my defence, the view of the Mekong was some amazing, with nearly no one around. Just pure, unspoilt scenery. Needless to say, I'm lucky my wife hasn't left me yet. She was not very happy.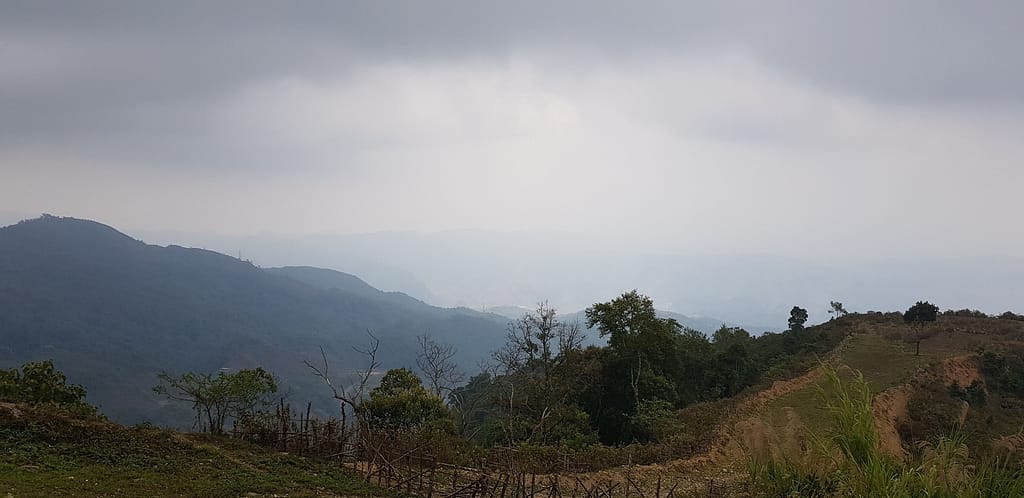 Immediately after checking into the hotel and showering, we headed out with our new Korean friend "T", who is still hanging out with us for some reason, to the night market for some famous street food. Along the way we got some fresh juice for 10,000 kip ($1.20), which was much needed to refresh us. We all shared a meal of grilled chicken, pork ribs, pork belly, rice, and salad. And of course beers. When I learned that T was only going to spend one night in Luang Prabang, do some sightseeing in the morning and then drive back to Vang Vieng, I felt pretty bad for ruining his previous day. 
Sima and I decided to sleep in the next morning and just check out some of the city's many temples the next day. We first went to the royal palace and spent about an hour there. We quickly realized how poor Laos was throughout its history after seeing the palace and how simple it was. It's a big change from the palaces we've seen in other countries. Next, we went to Wat Wisunarat (Vat Visoun) which dates back to 1501 and is the oldest Buddhist temple in the city. It was designed by King Visoun's wife and was meant to look like a lotus flower at the top, but people tend to think it looks like a watermelon. After a stop to rest at Utopia and chill out through the hottest part of the day, we went back to our hotel to chill for a little while.
Later that afternoon, on the way to Wat Xiengthong, we happened upon Vat Pak Khan Khammungkhun, which has an amazing drum show everyday at 4pm. I recommend everyone check it out. Wat Xiengthong is the largest temple in Luang Prabang and is the centre of all festivals and celebrations. This is the most important monasteries in Luang Prabang and also houses the Royal Funerary Carriage in a separate building. We ended the day with a sunset visit to Mount Phousi. Although busy with loads of tourists, it was possible to find a place with a good view of the sun setting over the mountains. 
The next morning we got up super early to check out the Alms giving ceremony, where the monks walk through the city streets and collect food from the locals. Many tourists buy rice from street vendors and try to take part in the ceremony. However, after some extensive reading on the subject, we learned that the monks don't eat the rice given by tourists, as it doesn't come from the heart and it's not homemade. In the past there were cases where the rice was stale and the monks got sick. As we followed the procession along, we actually saw the monks walk past a bin and throw out all the rice that had been given to them by tourists. I think the alms giving ceremony is excellent to witness, but that we should be observers and leave them to their traditions. 
After breakfast we went to the Kuang Si Waterfalls, which are perhaps the most beautiful waterfalls I have ever seen. We arrived at 8:30am and there were only a few other tourists there, so we mostly had it to ourselves. We hiked to the top of the falls, swam in pools and took lots of pictures.
In the afternoon I joined a crossbow making tour and learned to make a crossbow completely from wood through the guidance of a 75 year old Hmong man. His skill and ability were apparent, as he guided me through all the steps with no difficulty and did a fantastic job of explaining things through body language and by demonstration. In the end we both shot a bullseye with my new crossbow, so it is a tie for now.
Our final day included a morning boat tour to the Pak Ou Caves which are about 30km north on the Mekong. Of course, there was a stop at a whiskey/textile village, where the locals brew local Lao Lao Whiskey and weave a lot of different textiles for Lao people. We didn't bother to buy anything, but just had a short walk around town and then went back to the boat. The Pak Ou Caves actually consist of a lower and an upper cave, which house over 4000 buddha states of various sizes and materials. Traditionally, the royal family would make a pilgrimage to the Pak Ou Caves every year during Laos New Year. The current restoration of the caves is funded by Thailand, and Pak Ou village takes care of general cleaning and maintenance.
Of course, every day in Luang Prabang ended with walks through the market, fruit shakes by the street vendors and delicious food. I honestly think that any vacation to Laos is incomplete without a stop in Luang Prabang.