Bikepacking Routes
- The Maritimes -
Looking for some bikepacking adventures in your own backyard? Trying to build up to longer and more exciting adventures? Below are some amazing routes throughout the Maritimes. We've been hard at work putting together an assortment of routes throughout the region, ranging in difficulty from 1 day to multi-week challenges. These are all amazing routes developed by bikepackers from your own community. As an estimate I have calculated between 80km – 120km as a typical day of riding, depending on the route conditions. This will vary based on the riders fitness and skill levels.
If you have other amazing routes in your region and you would like to showcase them on the Bikepack Adventures website and make this, hands-down, the best resource around for bikepacking routes in Canada, click the submit a route button below.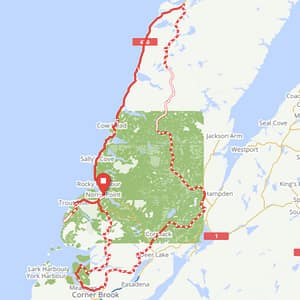 Distance 642km % Unpaved 61% Ascent 9880m High Point 609m Difficulty 6/10 GNPB Loop This…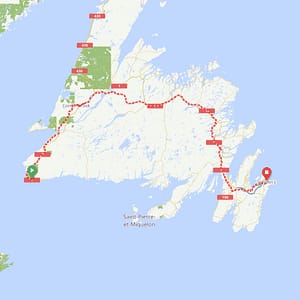 Distance 883km % Unpaved 94% Ascent 5211m High Point 478m Difficulty 3/10 Newfoundland T'Railway The…
Rather than re-creating an entirely new system of grading the difficulty of a bikepacking route, we at Bikepack Adventures have decided to use the grading system created by Bikepacking Roots. The difficulty is broken down into 2 main components: Physical difficulty and Technical difficulty. This is given an overall average out of 10 in the key stats part of the route, but is described more fully in the tabbed section under the heading "Difficulty". For more details, read the article Rating the Difficulty of Bikepacking Routes in my blog.
Be aware that all routes published, posted and linked to are unsupported and unsanctioned with no insurance provided. All riders are responsible for their own personal well-being when riding on any of the routes on the Bikepack Adventures website and do so at their own risk. The route developer takes no responsibility for personal injury, damage to personal property or any other circumstance that might happen to individual riders cycling these route. There is no guarantee of route conditions at any given time and the route developer takes no responsibility for disrupted route conditions. You are entirely responsible for your own safety and decisions that are make including accommodation and necessary detours. It is advised to study route maps and make note of your supply options as well as possible detours. If you are not comfortable riding a section of a route take any necessary alternatives. Planning and due diligence is imperative as is riding within your means.  People "racing" the route do so at their own risk.